Leonard Falcone conducting the Michigan State Band

Cherokee Museum, Alva Oklahoma
University of Michigan Band, ca. 1950s - 1960s
Norman Lee Publications. A Cassette labeled "Norman Lee - Music Lee Yours" contained recordings made in 1964 with Norman Lee and his friends. Norman Lee started his own publishing company in Wichita, Kansas, that eventually became part of C.L. Barnhouse.
Harvey Phillips (Tuba). This was also released through the ITEA Legacy Project (to members).
Jack Kimmel was a student of H. Owen Reed in the 1950s at Michigan State. He arranged many selections for the marching band, including the 1954 and 1956 Rose Bowl Appearances. I came across a cassette by "Kimmell and MacLEAN" in the Stover Archives one day. This may or may not be that Jack Kimmel singing in the track below.
University of Kansas Band, Russell Wiley Conducting.
Wiley taught at Phillips University in Enid, Oklahoma, before he was appointed Director of Bands at the University of Kansas in 1934. He founded the Tri-State Music Festival in Enid, and under the leadership of Milburn Carey, Tri-State grew to over 23,000 participants and 100,000 spectators in the 1970s. The recordings below, undated, were found in the Stover Archives.
The Goldman Band. Richard Franko Goldman, Conductor. Date Unknown.

Cherokee Museum, Alva Oklahoma
United States Navy Band. Lt. Mitchell, Conductor
A cassette labeled as "Unusual from Vaughn Hill" included a recording of the United States Air Force Band with Brian Bowman as soloists.
1976 Christmas Celebration in Alva, Oklahoma. Presumably performed at First Presbyterian Church in Alva.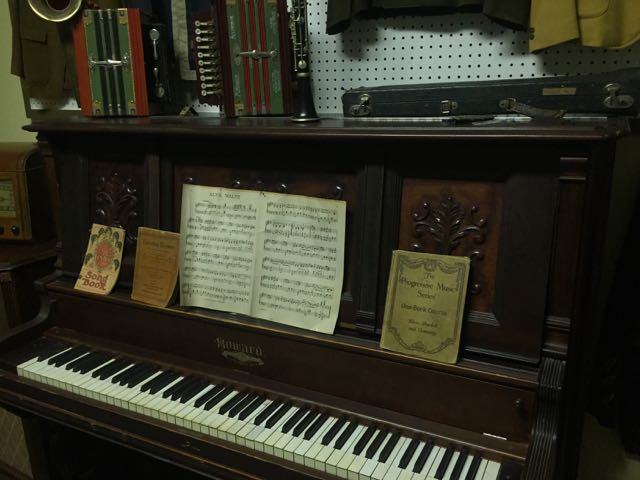 Cherokee Museum, Alva Oklahoma