Rudolf Meinl, Sr. Was born on July 25, 1939 in Silberbach, near Graslitz, Bohemia. In 1945, his family was driven from their homeland and resettled with other wind instrument craftsmen in Central Franconia. He grew up there in Neuebersbach and later in Neustadt an Der Aisch. His father, a Graslitz instrument maker, built a self contained factory in which all parts for all Brasswind instruments were made. The emphasis then, as now, was on tubas.
Herr Meinl completed his early schooling in 1954 and became an apprentice Brasswind instrument maker o his father, Rudolf Meinl. In 1957, he passed his journeyman's examination and continued working with his father before serving in the Deutsche Bundeswehr from 1959 until 1961. On November 4, 1961, he married Emma Frohwieser. Together they raised three children: Rudolf Jr. (born 1962), Renate (born 1963), and Karin (born 1968).
Rudolf Meinl, Sr. passed his Master's Examination (Meisterprüfung) on November 11, 1966. His life's work has centered around the development and refinement of a full line of bass tubas, contrabass tubas, and cimbassi in all keys and sizes. From time to time, he has built helicons in the keys of F, CC and BB-flat, as well. He is the only manufacturer who offers professional quality hand fabricated bass and contrabass tubas in all relevant keys and sizes, which makes him a quite unique individual in the tuba manufacturing industry. His family of cimbassi led to widespread use of this voice in concert and opera orchestras the world over.
-2014 International Tuba Euphonium Conference Program
---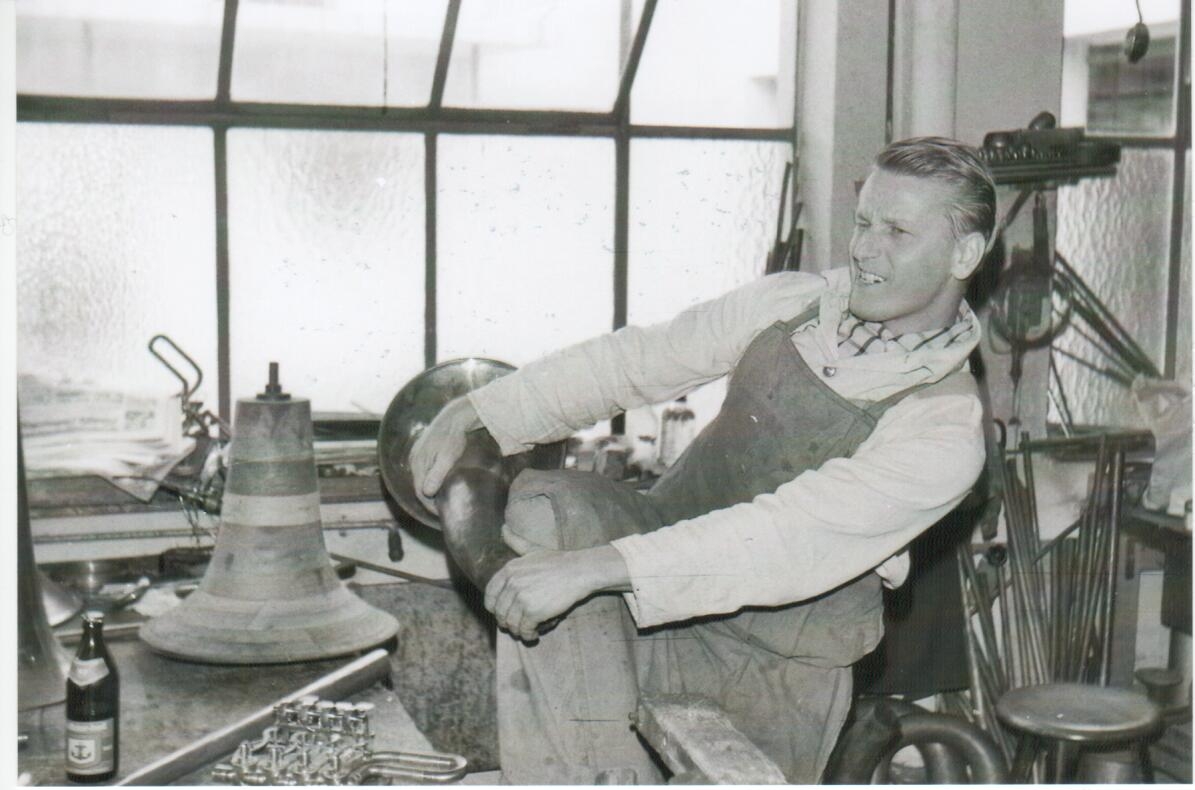 ---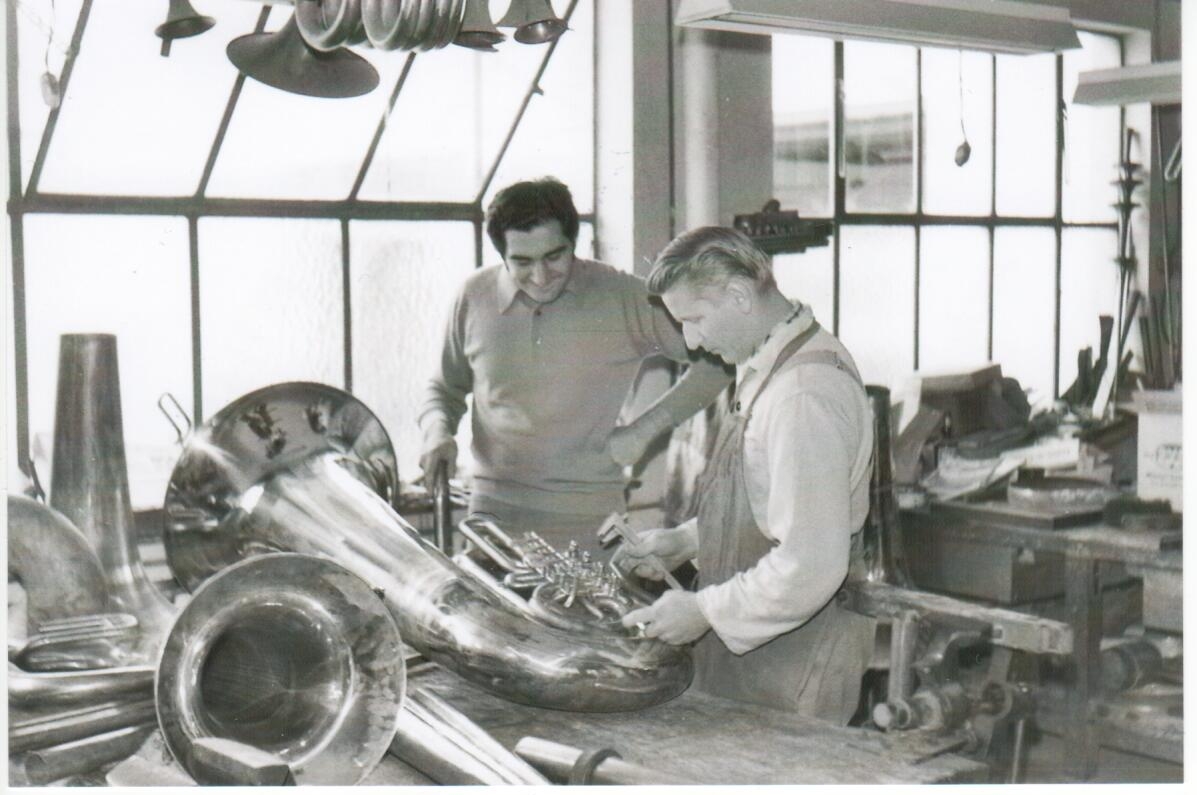 ---
Rudolf Meinl's tubas have been known to me since my freshman year in college, when my friend and roommate Mark Drake came to school with his Rudolf Meinl 5/4 BBb. It was, and is, one of the finest instruments I had ever seen or played. The quality was at the very pinnacle of hand craftsmanship, putting it in the highest echelon of tubas at the time! I first met Mr. Meinl in January of 1984, when he and his son, Rudolf Meinl, Jr., came to the NAMM show in Chicago. He had contacted Arnold Jacobs to let him know that he would be bringing his complete line of instruments to the show, that he was looking to establish a new dealer network, and that his instruments would be for sale at attractive prices after the show. Mr. Jacobs called me to let me know this information, and he and I agreed to meet there on the last day of the show. At the time, Mr. Jacobs was wanting me to purchase a larger CC tuba, so he gravitated towards the 5/4 CC and immediately started playing on it. As that instrument was then
occupied, I started playing his 3/4 CC, 4/4 CC and F tubas. With each instrument I tried I can remember thinking: "These instruments are terrific. I would love to have one of each!" After playing the 5/4 CC for quite a while, Mr. Jacobs came over to me and said: "Rex, this 5/4 CC tuba is one of the finest tubas I have ever played. I don't know how you are doing financially, but if you can't afford it, I will buy it for you. You can't leave this building without this tuba." Well, with that ringing endorsement, I spoke with Mr. Meinl and his son about the possible purchase of the tuba. The price he quoted was in German Marks, and having absolutely no idea what the
exchange rate was, I hurried to a newspaper stand to buy a Chicago Tribune to check the exchange rate. Doing the math in my head, and many times on paper, I couldn't believe what I was seeing. The dollar was at a very high value relative to the Mark at the time, and the dollar price of that tuba was well within my price range. In fact, the dollar was so strong, and the tubas were so exceptionally good, that I bought the 5/4 CC, the 4/4 CC, the 3/4 CC and the F tuba that day! Both Mr. Jacobs and I were very pleased with the day's proceedings! ! As our friendship and professional relationship grew, I asked Mr. Meinl to try several projects that I had in mind. One of these was the development of a Cimbasso. After speaking about many possible designs, he built a prototype and asked me to come to his factory to try it. It was so good that I bought the prototype and continued to perform on it for many years, even though subsequent revisions made the instrument even better. Constantly improving his instruments is something Mr. Meinl came to embrace, and his instruments are still made completely by hand, using the same techniques he learned from his father, and even some of the same machines! I have maintained a personal and professional relationship with the Meinl family to this day, and continue to perform on his instruments. The 5/4 CC is still one of the very finest tubas I have ever played. I have performed over 3,000 television and radio commercials on his 3/4 CC and I have performed recitals and concertos all over the world on his F tuba! Personally, I have been pleased to visit the Meinl family dozens of times in Diespeck/Aisch, and have followed the trials and tribulations of their family as a concerned friend. In all my dealings with Rudolf Meinl, Sr., I have found him to be honest, open, clear, helpful and friendly. He is a man and an artisan of the highest caliber. The fact that his instruments are performed on by many of the finest tuba players in the world, despite the fact that everyone must purchase our instruments and don't receive any endorsement money, is testament to the high regard with which they are held. There is just something special about the tone quality of a Meinl tuba which sets it apart from all others. A strong fundamental, great projection, evenness throughout registers, fine intonation, good ergonomics. These are all
characteristics of his tubas. Oh, that and the fact that the valves continue to go 'round and 'round without fail. I have been extremely fortunate in my career, and at this point I could truly afford to perform on any tuba I like, but I still play on his, and only his, CC tubas. It is my opinion that with one of his horns a tuba player can find his own true voice.Mr. Rudolf Meinl has been a steady, ethical presence in the tuba world which is much appreciated by many of us.
-Rex Martin
---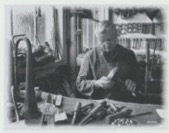 In the workshop - 2014 ITEC photo
---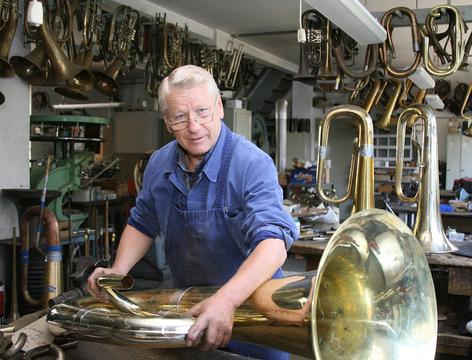 ---
Years before having actually met Rudolf Meinl in person I already had the deepest respect for him. Being a young student of music of course I had been intensely discussing tubas with my fellow students, having criticism and sometimes even harsh opinions about this or that instrument and brand. Though – with whomever I spoke there was always greatest admiration for Rudolf Meinl's fine products and practically everyone was fantasizing about being able to afford one sometime. Every time I had a chance to blow into one of his horns (or listen to someone doing it) I was impressed by the obvious craftsmanship that had gone into every single bit of the instrument as well as the fantastic way these tubas would response and sound.When I finally ended up living and working in Bamberg, being just 45 minutes away from Diespeck/Aisch in midst of the most beautiful Frankonian countryside, where Rudolf Meinl´s home and workshop are, I finally got to meet him for more than just a few minutes per year on the famous Frankfurt Music Show Trade Fair. It was more than just the deep respect I felt for the dynasty of a brass manufacturer´s family that he represented, but also and maybe even more I liked the fact that he - in a world becoming more and more industrial and "computer-aided" – could trust on his experience and the "Golden Hands" and fail safe instinct of a true craftsman of the best German Tradition, that enabled him to make all these wonderful instruments, manufacturing practically every part in house, down to the minutest screw or bolt, with his small team of app. five specialists, including his son Rudolf Jr. Having performed on some of his tubas for quite a number of years now, I can only express my deep gratitude for being provided with tools of such a quality, to fulfill my job as well as have always been thriving to do. For me Rudolf Meinl, like Peter Hirsbrunner and Anton Meinl, has enabled the tuba world to soar and be where it is - without such fine instruments it would have been so much more trouble to convince the rest of the musical world of how wonderful a thing the tuba is.
Heiko Triebener, Bamberg Symphony Orchestra
Melton Tuba Quartett
University of Music Würzburg
---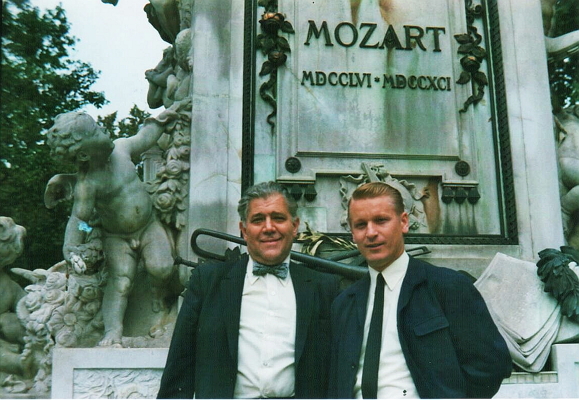 Arnold Jacobs and Rudolph Meinl, 1971
---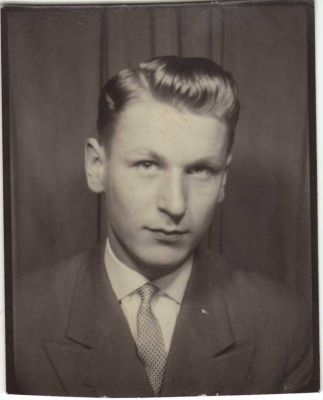 ---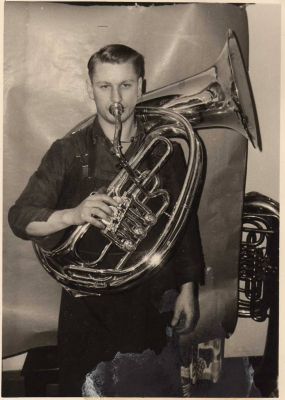 ---
Help support this website by buying me a cup of coffee!
---
---