László Szabó (H). Widely considered the most influential tuba teacher in Hungary, he is currently Professor of Tuba at the Franz Liszt Academy of Music in Budapest, where he was himself a student. He is much in demand as a presenter of masterclasses and lessons, and is often a jury member on prestigious International competitions such as the Markneukirchen Solo Tuba Competition.
As an orchestral musician, he has a diverse experience as tubist in the Budapest Symphony Orchestra (1967-1970), the Budapest Opera House (1970-1977) and is currently the tubist in the Hungarian State Symphony Orchestra. In 1989, he was elected the best artist of his orchestra. László is a member of the Budapest Brass Quintet and has toured throughout Europe, the USA and Japan with both the quintet and his orchestra. He can be heard on eight recordings with the quintet.
László Sazbó's appearance at Verso il Millennia is made possible through the generosity of FON Trade Music Budapest.
-1997 International Tuba Euphonium Conference Program
---
Budapest Brass Quintet
---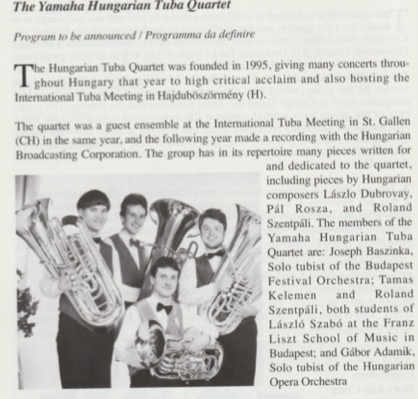 From the 1997 ITEC Program
---
Lásló Szabó, solo tuba, with Budapest Concert Band.
Tuba Concerto by Bogár István
---
Budapest Brass Quintet "Tuba Variationen"
---
Help support this website by buying me a coffee!
---
---